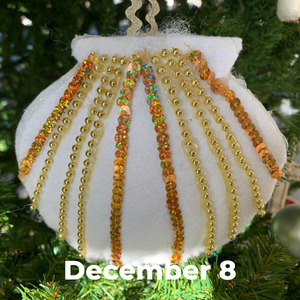 The Shell
The shell is symbolic of Jesus' baptism in the Jordan River by John the Baptist.
We were therefore buried with him through baptism into death in order that,
just as Christ was raised from the dead through the glory of the Father, we too may live a new life.
Romans 8:12
---
I've always loved trips to the ocean, looking at all the shells on the shore. I especially love the water. Who doesn't enjoy a dip in a cool pool on a hot day? Or a warm shower to soothe away stress? For us Christians, we really ought to think of more than a great beach trip when we see water or a scalloped shell. They ought to remind us of our baptismal vows. When I think about baptism,  I first think about the response we have during baptism when asked to proclaim the Good News, to seek and serve Christ, and to strive for justice and peace: I will, with God's help. I'm so grateful for those last three words. Without them, I can't make that promise! I know myself well enough to know that I am going to fail . . . a lot. But! I will be able to succeed with God's help. I have a challenge for you the next time you struggle to make peace with that one coworker (you know the one) or the next time you cannot see how you can love that person who gets on your last nerve. Remember the baptismal covenant and have faith that you can do all things with God's help.
Clare Stratmann