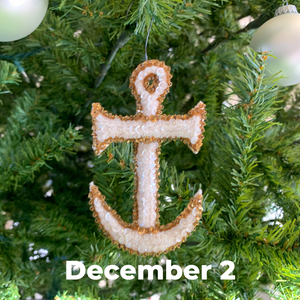 Anchor Cross
Jesus is the anchor of our faith.
---
We have this hope as an anchor for the soul, firm and secure.
Hebrews 6:19
When I was a teen my friend's and I took out a 22 sailboat on Belton Lake. We spent the day enjoying the water. We sailed from Franks Mariana to the MPR marina. Our boat did not have lights or a motor, so we had to be in before dark.

It stated to get late and as we headed in the wind changed. It became gusty and large swells of water began to form. We came around the bend in the lake that goes from MPR to Franks, and we got caught in an area where the direction wind and the current was going to push us into the rocks. We could not move and no matter how hard we fought it was a losing battle. We were going to most likely scuttle the boat. I started to lose hope that we would leave this predicament unscathed. Then I came up with the idea to throw in our anchor to hold our place so that we would not be pushed into the rocks. The moment the line became taunt and our craft no longer moved my hope retuned. That anchor saved us from the rocks, and gave us time to hail help.

Just as the anchor gave me hope to be saved and offered refuge from the rocks, Christ can be our anchor. He has gone ahead of us and secured our salvation. We can place our confidence and hope in Christ and find refuge in him.

G.A. Whitehead