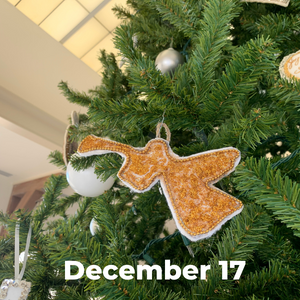 The Angel
Angels can represent the shepherds about the birth of Jesus. It can also represent the second coming of Jesus, which the Bible says will start with an Angel blowing a trumpet.
Suddenly a great company of the heavenly host appeared with the angel, praising God and saying,
"Glory to God in the highest heaven,  and on earth peace to those on whom his favor rests." 
Luke 2:13-14
---
Religious traditions say an angel is a spiritual being created by God as His servants. In the season of Advent we look forward to the birth of the Christ child. We also look forward to His second coming as revealed in scriptures. Angels are present with Christ throughout scripture. Christ was created before the angels and is sovereign over all. Colossians 1:16 and 2:10, John 1:3.
The angel Gabriel visits Mary Luke 1:26
Jesus is ministered to by angels after 40 days in the desert Matthew4:11
An angel comforts Jesus in the Agony Garden Luke 22:43
An angel speaks at the empty tomb Matthew 28:5
Christ will come again with the holy angels Matthew 25:41, 1 Timothy 5:21, Matthew 16:2-7, 25:31, Mark 8:38
As we look at our angel symbols may we be reminded of their presence with our Lord and their role from God and Christ a messenger, a comforter.

Jonette Albright