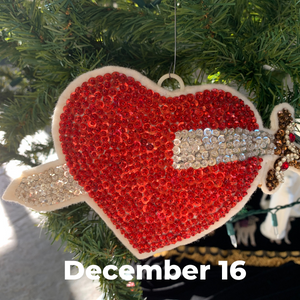 The Heart
God is love.
No one has ever seen God. But if we love each other,
God lives in us and his love is brought to full expression in us. 
1 John 4:12
---
What are Chrismons? According to Wiki, they are symbols of Christ that express inner  meanings. The heart-symbol is a Chrismon with a universal inner meaning understood both in the secular world and in the church – LOVE. 

The church's understanding of LOVE is often different from how it is understood and expressed in the world. In the church, it is an amazing LOVE, coming from the heart of the unseen God who demonstrated his LOVE when he donned the visible apparel of humanity and took on the visible form of a babe lying in a manger. When grown, because of his LOVE, he visibly ​sacrificed himself on the cross. After he visibly arose from death, he gifted humanity with LOVE in the form of forgiveness and everlasting life. Today, God is once again unseen, but as his beloved ones, his LOVE lives in us and is visible to the world as we give the gift of LOVE to one another.  

Jane McChesney