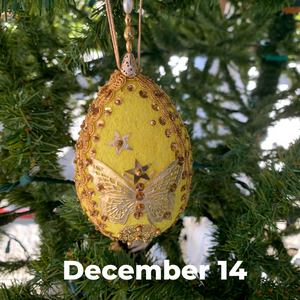 The Butterfly
The Butterfly represents transformation and the immortal soul.
Do not be conformed to this world, but be transformed by the renewing of your minds,
so that you may discern what is the will of God-what is good and acceptable and perfect.
Romans 12:2
---
"Do not be conformed to this world" takes on special meaning during this time of conflict within our country and the world. There is so much evil and hatred that we see or read about in today's world.
We are waiting for God to make things right. The world seems to need some transformation and that task is daunting. But we can start with ourselves. It helps to tune out the noise that surrounds us, both literally and figuratively.
Advent is a time of waiting, a time of expectation. This season offers us a time to 'renew our minds'. We are given a time to reflect within our selves and our souls.
The chrimson that accompanies this devotional is that of a butterfly, one of God's creatures. The butterfly reminds us that we go from darkness to light. God calls us to the light. There is a quote by an anonymous author that reads, "Perhaps the butterfly is proof that you can go through a great deal of darkness and still become something beautiful."
As we await the coming of our Lord during the season of Advent, let us reflect how we go from darkness to light. We are drawn to the light, and to God's goodness.
During this Advent, let us reflect on those things that do not give us life. And ask God to help us let those go as we await our transformation and accept God's will for us.
Kerry Hancock