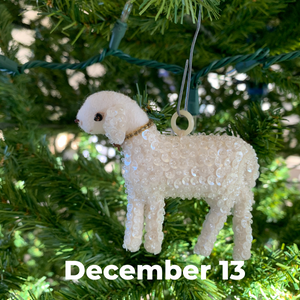 The Sheep
The Sheep represents the parable of the lost sheep (God's children) wandering  in  the  wilderness.
Then he calls his friends and neighbors together and says,
'Rejoice with me; I have found my lost sheep
Luke 15:6
---
This is one of my favorite verses in the Bible. I love thinking of Jesus as my shepherd and how much He loves us. So much so that he would leave the 99 to search for the 1.
I believe that we have all been the one lost sheep at one point in time or another. And every time, He comes looking for us and rejoices when we are found! It's like the song says…
Oh, the overwhelming, never-ending, reckless love of God
Oh, it chases me down, fights 'til I'm found, leaves the ninety-nine
I couldn't earn it, and I don't deserve it, still,
You give Yourself away
Oh, the overwhelming,
never-ending, reckless love of God, yeah
Jennifer & Michelle Teague