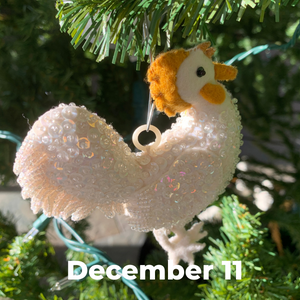 The Rooster
The White Rose represents purity, especially for the
The rooster, as a symbol, is a call to repentance.This comes from Peter's denial of Christ, his remorse and repentanceupon hearing the rooster's crow.
Godly sorrow brings repentance that leads to salvation
and leaves no regret, but worldly sorrow brings death.
2 Corinthians 7:10
---
Paul wrote 2 Corinthians to the church in Corinthian, hoping to visit for the third time. He is grateful for the church's repentance after his earlier letter. 
Advent is a time of waiting and preparation for both the celebration of Christmas (Jesus's birth), and the return of Jesus in the second coming. When I think of this time of year, I must really focus on the meaning of Advent and Christmas instead of the craziness this season can bring. The Rooster is a great reminder for me.  
As I think of the rooster in the Bible, I remember it with the Peter and his denial of Jesus before his death. That does NOT fit into my ideas about Advent. But I guess that in getting in the midst of the "craziness" of this season, I am deny Jesus. So, I am grateful for God's gift of salvation when I repent.  
The rooster for Peter helps stand for his remorse and repentance when he hears the crow the next morning. Jesus's gift of new life. On the farm, the rooster announces the dawn of a new day. Each new day brings new chances for my life and a chance for a deeper relationship with Jesus. So, in preparation for the birth of our Lord, I hope to grow each day in my life in Christ.
Renee Carberry